25/07/2020
Posted by:

Thamizharasu Gopalsamy

Category:

Entrepreneurship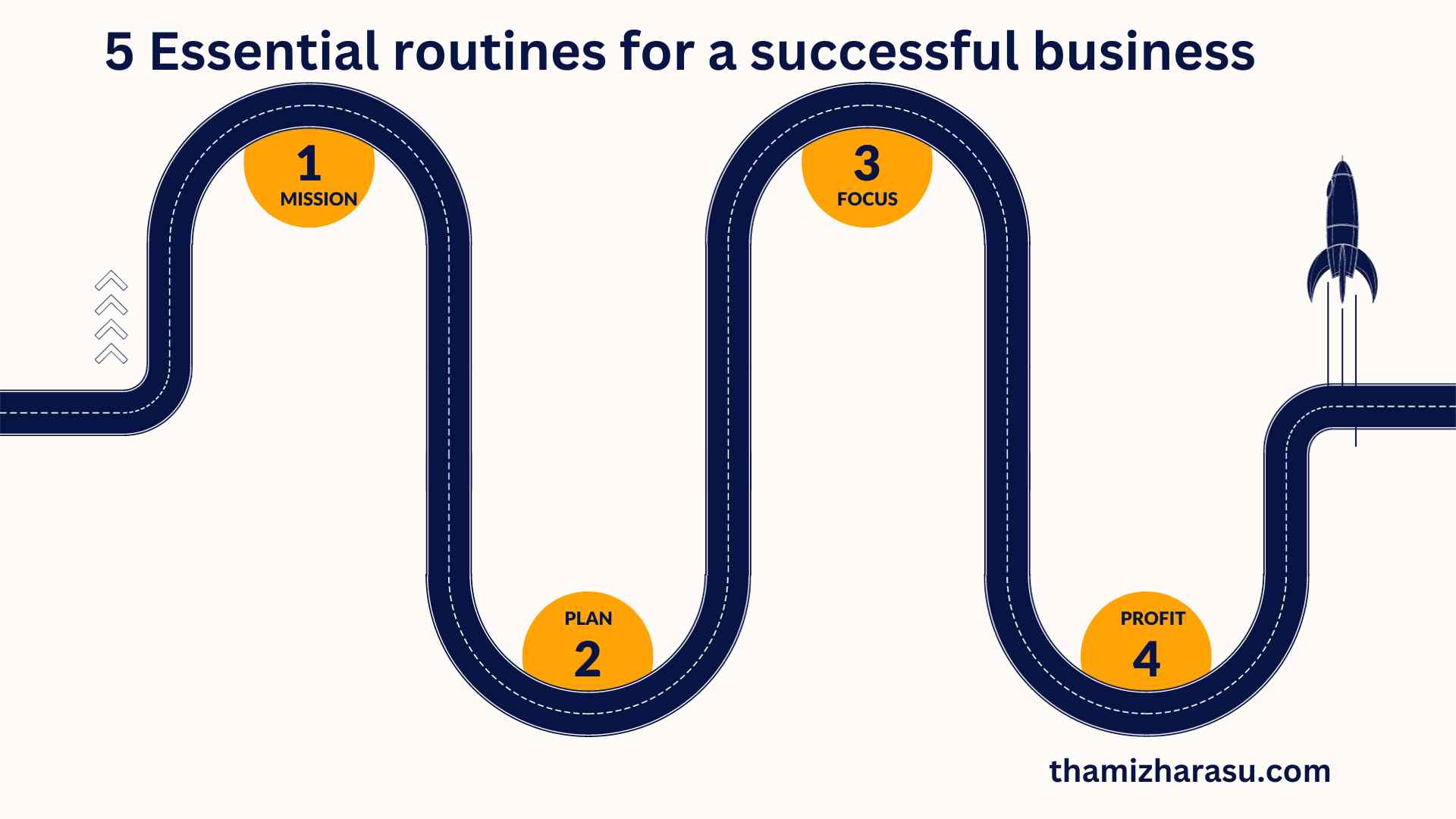 5 essential Routines for a Successful Business Being a successful entrepreneur or running a successful business doesn't mean that it's easy. Most of the entrepreneurs learn from years of setbacks and learning experiences before they achieve great success. Today, in the digital world collaborating right technology and diverse strategies, Business advisors come up with a few effective business routines that assure great success within a limited period of time.  
Following a routine is essential to keep up the progress of your business! Have a look at the top five essential business routines recommended by a business coach, 
1. Focus On your Mission
An expert business advisor advocates the importance of your mission. It's essential to focus on your business mission every day. Understand the importance of careful and detailed market research that may bring in changes to your daily mission. Collect concrete data on your ideal customers, existing competition level, expected growth demand, changes in market trends, and research more on your business. Such insights are valuable and allow you to modify your mission on a daily basis.
2. Draft Routine Business Plan
Business coach recommends every entrepreneur to be hands-on and meticulous. In order to grow your business, entrepreneurs focus on drafting a routine business plan that meets your professional goals. Concentrate on simple things, because small things do get noticed and so, a business plan with clear attention to detail is very important. You can make it a simple document with workflow stored in the cloud that is accessible for making changes over time. Digital documents are safe where changes can be made, saved, and shared automatically.  You can use the following free apps for the same One Note and Google Drive. 
3. Reinvent yourself every day
Be smarter every day! Entrepreneurs have to be more relevant every day! In this fast world, be creative and innovative in your business plans. A few years back, we were dependent on plenty of human resources to accomplish our tasks. Today, in this digital world we have compact resources to make our task successful. As technology is changing, we're doing things much smarter and entrepreneurs get a chance to promote their business on diverse platforms. There are chances of failure, but never lose hope, learn from failures, and reinvent yourself every day!  If you want to reinvent yourself, initially review your actions on a daily basis and start learning new things in your industry. Delegating and hiring even more efficient staff. 
4. Focus on your Customers
Happy customers are the milestone of a successful business! Business advisors would advocate the right focus on your customer satisfaction. Make it a routine task to focus on your customer satisfaction. The purpose of your business is not just profit, but to create and retain a customer. If you want to retain and make more profits from your customers, consider superior value to your customers. You have to delight your customer every single time. If you get a customer for the first time; focus on delighting your customers each time, this results in earning loyal customers. Your loyal customers will refer you to more customers. This determines real growth by increasing the number of satisfied customers. Listen to your customers and make the necessary improvements in their buying experience.  
5. Draft your profitability Goals
Plan out your daily revenue and make enough money to sustain operations. Business coaches would focus on a critical understanding of your revenue structure. Check out the profit and make some plans to reinvest for future growth. Take a look at your daily business costs including sourcing, production, staff, capital, and more. Determine how much money your business needs to bring in on a daily basis, monthly, quarterly, and yearly. Make sure to meet your revenue and profitability goals every day or bring in new strategies to achieve it! Get the necessary income to keep your business successful! 
for 5 essential routines for a successful business Above routine, businesses often focus on a unique culture and employee engagement. A good team of employees will create a strong track record and enhance a positive vibe all through the day. Work as a team and ask for their input and feedback. Identify the use of modern technology and get guidance from top business advisors to enhance your business.  
Share this post :

About Mr.Thamizharasu
                  Hi., I am Thamizh well well-known- Author, Speaker Tamilnadu's No:1 Business Coach, and fitness enthusiast. I am the son of an educationist and teacher and brother of a successful businesswoman., I have worked with more than 300 entrepreneurs in various domains such as Retail, Finance, Textile, Engineering, etc.  I am on a mission to empower 100000 entrepreneurs to achieve their goals and ambitions by providing proven business tools, systems, and Strategies.