22/05/2023
Posted by:

Thamizharasu Gopalsamy

Category:

Entrepreneurship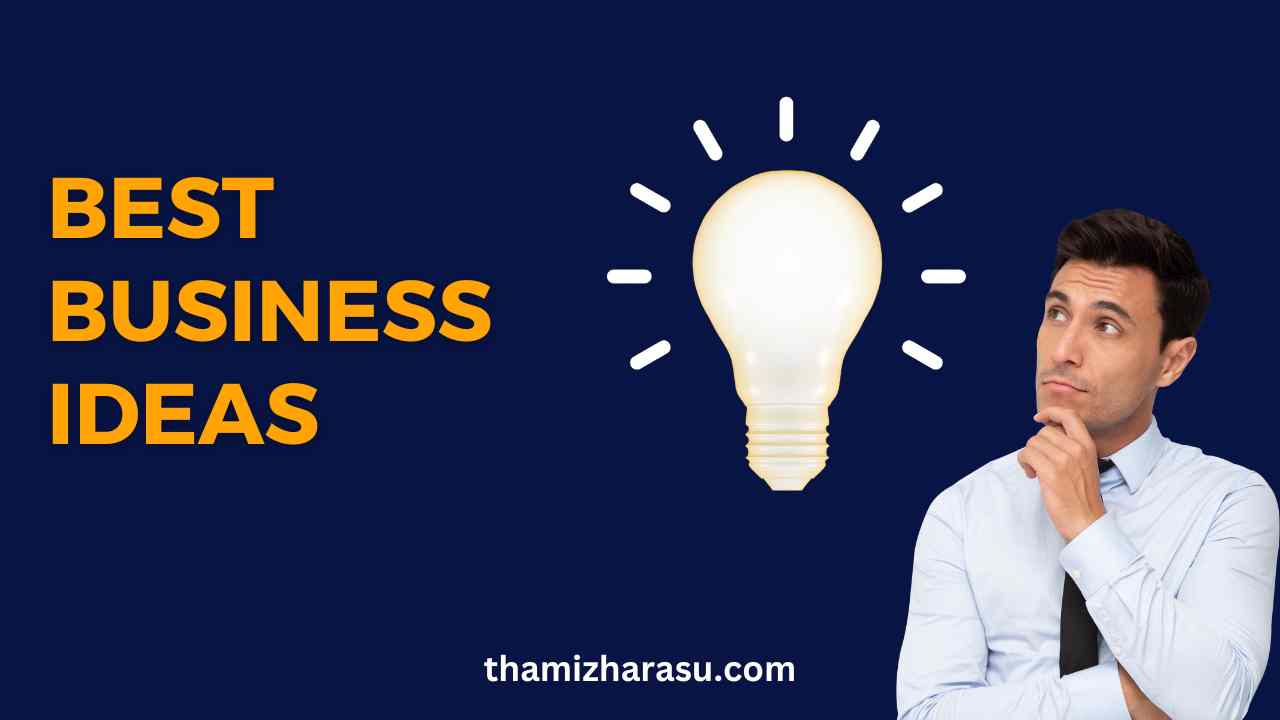 Introduction:
In an ever-changing business landscape, identifying lucrative and sustainable business ideas is a challenge for every aspiring entrepreneur. This comprehensive guide offers a deep dive into the best business ideas, covering a variety of sectors, trends, and demographics. We'll also delve into key factors to consider when choosing a business idea, drawing on lessons from successful entrepreneurs around the world. Whether you're a startup entrepreneur, a retiree, a teenager, or a freelancer, this guide will provide valuable insights to help you choose the right business venture.
1. Understanding the Business Landscape
The business landscape is an ever-evolving entity, shaped by technological innovations, socio-political changes, economic fluctuations, and unforeseen events like the COVID-19 pandemic. Understanding these trends and their implications is crucial to identifying the best business ideas that would thrive in the current market.
Current Business Trends: Understanding the Marketplace
the business world is witnessing a surge in several areas. The world is becoming more digital and connected, leading to the rise of remote work, online business models, and digital marketing strategies. Artificial Intelligence (AI) and Machine Learning (ML) continue to revolutionize industries from healthcare to finance, and sustainability is becoming a non-negotiable aspect of business, with consumers demanding environmentally-friendly practices and products.
Moreover, the health and wellness industry is thriving, powered by a renewed focus on personal health, driven in part by the pandemic. E-commerce is also experiencing a boom, with more consumers preferring to shop online for convenience and safety.
Role of Digitalization in Emerging Business Ideas
The digital revolution is at the forefront of business in 2023. Digitalization has opened up new avenues for businesses, creating opportunities that didn't exist a few years ago. From AI-powered business solutions to blockchain technology, the digital landscape is ripe with innovative business ideas.
Digital platforms are now key players in marketing, communication, and sales. They've given rise to influencer marketing, social media management services, and online consulting businesses. On the other hand, data analytics and AI are driving businesses towards data-driven decision-making, leading to the emergence of businesses centered around data analysis, AI consulting, and digital transformation.
The Impact of the Pandemic on New Business Ventures
The COVID-19 pandemic has undeniably had a profound impact on the business landscape. While it posed numerous challenges, it also presented unique opportunities. Many businesses had to pivot to survive, leading to innovative adaptations and new business ideas.
The pandemic accelerated the shift towards digital platforms, leading to a surge in online businesses, from e-commerce to digital consulting. Health and wellness-focused businesses saw a spike, with increased demand for mental health services, online fitness solutions, and health-focused food and beverage companies. Remote work became the norm, leading to a rise in businesses offering remote work solutions and coworking space memberships.
Moreover, the pandemic underscored the importance of business resilience and flexibility, with businesses that could adapt quickly to change faring better. This has prompted a rise in consulting services focused on business continuity and crisis management.
2. Evaluating the Best Business Ideas for Different Sectors
When seeking the best business ideas, it's essential to look at opportunities within different sectors. Each industry presents unique trends and challenges, and understanding these can lead to profitable business ventures. Let's delve into some of the most promising sectors in the next few years: the tech industry, health and wellness sector, e-commerce industry, and education sector.
Best Business Ideas in the Tech Industry
The tech industry is a breeding ground for innovative business ideas. With the continuous advancements in AI and machine learning, business opportunities in AI consulting, data analysis, and cybersecurity are flourishing. Other promising tech businesses include software development, especially in areas like automation, remote work solutions, and mobile app development. Additionally, the demand for professionals skilled in cloud computing and blockchain technology is high, making businesses centered around these skills lucrative.
Top Business Ideas in the Health and Wellness Sector
The health and wellness sector has seen an enormous boost due to increased health consciousness among consumers. Some of the best business ideas in this sector include online fitness coaching, wellness app development, and mental health services, especially ones that offer remote counseling. The market for healthy and organic food and beverage products is also growing rapidly. Other notable business ideas include corporate wellness services, holistic health clinics, and health-focused meal delivery services.
Most Promising Business Ideas in the E-commerce Industry
The e-commerce industry continues to experience a boom, accelerated by the pandemic. Some of the most promising business ideas include online retail stores that cater to niche markets, dropshipping businesses, and e-commerce consulting services. Also, businesses that focus on enhancing the e-commerce experience, such as SEO services for e-commerce, digital marketing services, and user experience (UX) design, hold great potential. Lastly, there's a growing demand for local online marketplaces that connect local producers with consumers.
Innovative Business Ideas in the Education Sector
The education sector has been revolutionized by digital technology, leading to a surge in ed-tech business ideas. Online tutoring and coaching services are thriving, with opportunities for niche subjects and test prep services. Businesses that develop educational apps or online platforms for learning are also in high demand. Other innovative business ideas include online platforms for professional development and continuous learning, virtual reality-based education solutions, and services that facilitate homeschooling.
3. Sustainable Business Ideas for a Green Future
Sustainability has become a business imperative in 2023, driven by increasing consumer awareness about the environmental impact of their purchasing decisions. Businesses that incorporate sustainability into their models can not only make a positive impact on the environment but also cater to a growing market. Let's explore some of these sustainable business ideas.
Exploring Business Ideas in the Renewable Energy Sector
The renewable energy sector offers numerous opportunities for green businesses. As the world increasingly turns towards renewable sources of energy, businesses that install or manage solar panels, wind turbines, or other renewable energy technologies are on the rise. Other promising ideas include energy auditing services, which help businesses and homes become more energy-efficient, and consulting services for businesses wanting to transition to renewable energy. There's also potential for developing innovative energy storage solutions and recycling waste from renewable energy production.
Opportunities in Sustainable Fashion and Beauty
The sustainable fashion and beauty industries are growing as consumers become more conscious of the environmental impact of their clothing and beauty products. Sustainable fashion businesses could involve selling clothes made from organic or recycled materials or offering a platform for swapping or renting clothes to reduce waste.
In the beauty industry, there's a rising demand for products made from natural, cruelty-free, and organic ingredients. Businesses can also differentiate themselves by using eco-friendly packaging and production processes. Other opportunities lie in offering services like sustainable fashion consulting or running a blog or YouTube channel to educate consumers about sustainable fashion and beauty.
Business Ideas in the Organic Food Industry
The organic food industry presents a multitude of business opportunities. From starting an organic farm to opening an organic grocery store, there's a growing market for businesses that offer pesticide-free, non-GMO products. Other business ideas include organic catering services, online platforms for connecting consumers with local organic farmers, and businesses that create organic processed foods, like sauces, snacks, or ready-to-eat meals. Additionally, businesses that focus on reducing food waste, like apps that connect consumers with restaurants selling surplus food, can also be successful.
4. Leveraging Digital Platforms for Business Success
In the digital age, businesses that can effectively leverage digital platforms are more likely to succeed. From social media to e-commerce to app development, there are countless ways to use these platforms for business success. Let's explore some of the best business ideas in these areas.
Best Business Ideas for Social Media Platforms
Social media platforms offer numerous opportunities for innovative business ideas. One of the most promising areas is social media consulting, where businesses help other companies improve their social media presence and strategy. Influencer marketing is another lucrative area, where individuals or agencies work with brands to promote their products.
Businesses can also focus on content creation, such as video production for platforms like YouTube and TikTok. Affiliate marketing, where individuals earn a commission by promoting other companies' products, is another promising business idea. Lastly, businesses that offer training or coaching on how to effectively use social media for business can also be successful.
The Rise of E-commerce: Business Ideas for Online Retail
E-commerce has revolutionized retail, opening up numerous business opportunities. An obvious idea is to start an online store, which can be done with relatively low startup costs on platforms like Shopify or Etsy. Businesses could also focus on dropshipping, where they sell products online but have them shipped directly from the manufacturer to the consumer.
Other promising e-commerce business ideas include e-commerce consulting, where businesses help other companies improve their online retail strategies and businesses that specialize in SEO or digital marketing for e-commerce. Companies could also develop software or apps to enhance the e-commerce experience, such as apps that provide personalized product recommendations.
Exploring Business Opportunities in the App Development Industry
The app development industry continues to thrive, offering countless business opportunities. Businesses could focus on developing their own apps, whether they're mobile games, productivity apps, or apps that support health and wellness. There's also demand for custom app development services, where businesses develop apps tailored to other companies needs.
Another promising area is app consulting, where businesses help other companies strategize, develop, and market their apps. Lastly, with the rise of augmented reality (AR) and virtual reality (VR), businesses that can develop AR or VR apps are likely to be successful.
5. The Future of Franchise: A Reliable Business Idea
The franchise model continues to present a reliable business idea for many entrepreneurs in 2023. It allows individuals to leverage the strength of an established brand and enjoy the benefits of a proven business model. Let's explore the best franchise opportunities and key considerations when buying a franchise business.
Evaluating the Best Franchise Opportunities in 2023
Identifying the best franchise opportunities in 2023 requires careful research and consideration of current market trends. For instance, franchises in the fast-food sector, particularly those offering healthy options, continue to thrive. Fitness franchises, such as gyms or specialized fitness studios, are also popular due to the increasing health consciousness among consumers.
In the service sector, home-care franchises are seeing a surge, given the aging population and the desire of many seniors to age in place. Tech-related franchises, like those offering IT services or tech repair, can also be profitable due to the growing reliance on technology.
When evaluating franchise opportunities, consider factors like the brand's reputation, training and support offered, initial and ongoing costs, and the potential market in your location.
Key Considerations for Buying a Franchise Business
Before buying a franchise, it's crucial to do your due diligence. Here are some key considerations:
1. Understanding the Franchise Model: Ensure you fully understand the franchise model, the roles and responsibilities of both the franchisor and franchisee and the terms of the franchise agreement.
2. Financial Considerations: Evaluate the initial investment, ongoing fees, and the financial health of the franchise. Also, develop a financial plan to ensure profitability.
3. Brand Reputation: Research the brand's reputation, both from a customer and franchisee perspective. Look at online reviews, and news reports, and speak to current franchisees if possible.
4. Training and Support: A good franchisor should provide comprehensive training and ongoing support to franchisees. Ensure that the franchisor offers adequate resources to help you succeed.
5. Legal Considerations: Review the Franchise Disclosure Document (FDD) carefully, ideally with the help of a lawyer. It contains important information about the franchise, including any litigation history, bankruptcy, initial and ongoing costs, and the obligations of both parties.
Remember, while franchising can be a reliable business idea, it's not without risks, and it requires careful consideration and planning.
6. Niche Markets: Unexplored Treasure Troves of Business Ideas
Niche markets, though smaller in size, often present unique business opportunities. They cater to a specific, targeted group of customers, which allows for focused marketing and product development. Let's explore some of the best business ideas for niche markets and look at successful case studies.
Best Business Ideas for Niche Markets
1. Specialized E-commerce: Selling products that cater to a specific hobby, lifestyle, or interest group, such as eco-friendly products, specialized tea or coffee, or products for a specific pet breed.
2. Niche Subscription Boxes: Subscription boxes that cater to specific interests, such as boxes for book lovers, DIY craft kits, gourmet food samples, or beauty products for specific skin types.
3. Online Courses or Coaching: Offering online courses or coaching services in a specialized area, such as vegan cooking, mindfulness for kids, or training for a specific sport.
4. Specialized Travel Services: Providing travel planning services for specific groups, like solo female travelers, seniors, or travelers with specific dietary requirements.
5. Niche Fitness Studios: Opening a fitness studio that offers a specific type of workout, such as Pilates, barre, or high-intensity interval training (HIIT).
Case Studies of Successful Niche Market Business Ventures
1. Lefty's: Lefty's is a retail store that specifically caters to left-handed people. They offer a range of products, including kitchen utensils, school supplies, and gardening tools, that are designed for left-handed use.
2. The Farmer's Dog: The Farmer's Dog offers fresh, human-grade dog food tailored to the specific needs of each dog. Customers fill out a questionnaire about their dog's age, breed, and health, and The Farmer's Dog creates a personalized meal plan.
3. Sweaty Betty: Sweaty Betty is a UK-based activewear brand designed specifically for women. They offer high-quality workout clothes that are both functional and stylish. Their niche focus on women's activewear has helped them stand out in the crowded activewear market.
These successful niche businesses have shown that understanding and catering to a specific group of customers can lead to business success.
7. Capitalizing on the Gig Economy: Unique Business Ideas
The gig economy, characterized by freelance, flexible jobs, has seen exponential growth over the past few years. It presents unique opportunities for those who value flexibility and independence in their work. Let's delve into some business ideas for freelancers and independent contractors, as well as platforms that offer gig-based business opportunities.
Business Ideas for Freelancers and Independent Contractors
1. Freelance Writing: With content being king in the digital age, there's a high demand for writers. You could specialize in areas like SEO writing, copywriting, or technical writing.
2. Virtual Assistance: As a virtual assistant, you can offer services like email management, scheduling, bookkeeping, and social media management to businesses remotely.
3. Online Tutoring or Coaching: If you have expertise in a specific subject, consider offering online tutoring. This could range from academic subjects to music lessons or career coaching.
4. Freelance Graphic Design: Businesses often need graphic design work for their websites, marketing materials, and social media.
5. Freelance Programming or Web Development: If you're skilled in coding, you can offer services like website development, app development, or software solutions.
Platforms for Gig-Based Business Opportunities
Several online platforms connect freelancers with clients. Here are a few popular ones:
1. Upwork: Upwork is a platform for freelancers in fields like writing, graphic design, and web development. It allows you to create a profile and bid on relevant projects.
2. Fiverr: On Fiverr, freelancers can offer their services, called "gigs," starting at $5. It's a great platform for creative freelancers, including writers, designers, and musicians.
3. Freelancer: Freelancer is a large marketplace for freelance work in fields like writing, design, and IT.
4. TaskRabbit: TaskRabbit is a platform for local gigs, such as handyman services, cleaning, or moving help.
5. Tutor.com: Tutor.com connects tutors with students in a variety of subjects.
Remember, succeeding in the gig economy often requires a proactive approach to finding work, excellent time management skills, and the ability to deliver high-quality work consistently.
8. Best Business Ideas for Budding Entrepreneurs
The entrepreneurial journey can start at any age and stage in life. Whether you're a young adult just starting out, a retiree looking for a new venture, or someone with a small budget for launching a business, there are countless opportunities available. Let's explore some business ideas for different demographics.
Low-Cost Business Ideas for Startup Entrepreneurs
Starting a business doesn't necessarily require a large initial investment. Here are some low-cost business ideas:
1. Freelance Services: Offering your skills as a freelancer, such as writing, graphic design, or programming, requires minimal upfront costs.
2. Online Tutoring: If you're knowledgeable in a subject, you can start an online tutoring business with just a stable internet connection and a computer.
3. Dropshipping: In a dropshipping business, you sell products online, but the supplier ships them directly to the customer, so there's no need for inventory.
4. Home-Based Catering or Baking: If you have culinary skills, consider starting a home-based catering or baking business.
5. Social Media Consultancy: If you're savvy with social media, you could offer your services as a social media consultant to help businesses improve their online presence.
Business Ideas for Teenagers and Young Adults
Teenagers and young adults can also launch successful businesses. Here are a few ideas:
1. Lawn Care or Babysitting Services: These classic teen jobs can be turned into legitimate businesses with a bit of marketing and professionalism.
2. Reselling Products: Buying items at a low cost and reselling them online can be a profitable venture.
3. Tutoring: Young adults can offer tutoring services to younger students in their area of expertise.
4. App Development: Tech-savvy teens can consider developing apps or offering programming services.
5. Content Creation: Teens and young adults often excel in creating content for social media or YouTube, which can be monetized.
Business Ideas for Retirees: Turning Experience into Opportunity
Retirement can be a great time to start a business, leveraging years of experience. Here are some business ideas for retirees:
1. Consulting: Retirees can offer consulting services in their area of expertise.
2. Tutoring or Teaching: Retirees could tutor students or teach adult education classes.
3. Crafting Business: If you have a craft hobby, like knitting, woodworking, or pottery, consider selling your creations online.
4. Personal Chef or Catering Services: If you love to cook, consider starting a personal chef or catering business.
5. Writing or Editing Services: Retirees with a background in writing or editing can offer their services on a freelance basis.
Remember, the best business idea for you will depend on your skills, interests, and circumstances. Always do your research and planning before starting a business.
9. Key Factors to Consider When Choosing a Business Idea
Choosing the right business idea is a crucial step in the entrepreneurial journey. It can determine the success or failure of your venture. To make an informed decision, there are several factors you should consider, such as understanding your market, evaluating the profitability and scalability of the business idea, and assessing your passion and expertise for the venture.
Understanding Your Market: The Key to Business Success
Before you launch a business, it's crucial to understand the market you're entering. This involves identifying your target customers, understanding their needs and behaviors, and researching your competition. Market research can help you determine if there's a demand for your product or service, how to price and market your offerings, and how to differentiate yourself from competitors.
Evaluating the Profitability and Scalability of Business Ideas
Not all business ideas are created equal when it comes to profitability and scalability. Profitability refers to the ability of a business to generate a profit, which is the revenue remaining after subtracting all costs, taxes, and expenses. Scalability, on the other hand, refers to the ability of a business to grow and expand without a significant increase in costs.
When evaluating a business idea, consider the potential revenue streams, startup and ongoing costs, and the profit margin. Also, consider whether the business can be scaled. For instance, a service-based business where you're the sole service provider may have limited scalability, while a product-based business or a business that can be franchised may have high scalability.
The Importance of Passion and Expertise in Your Business Venture
While market demand and profitability are important, don't overlook the importance of passion and expertise. Running a business can be challenging and often requires long hours and overcoming setbacks. If you're passionate about your business, you'll be more motivated to put in the necessary work and persist in the face of challenges.
Moreover, having expertise in your business area can increase your chances of success. It can help you make informed decisions, avoid common pitfalls, and provide better value to your customers. If you lack expertise in certain areas, consider partnering with someone who complements your skills, or invest in learning and development.
In conclusion, choosing a business idea involves careful consideration of various factors. It's a decision that should balance market opportunities with your personal interests and skills.
10. Success Stories: Inspiration for Your Business Idea
Looking at the success stories of other entrepreneurs can provide inspiration and valuable lessons for your own business journey. From small startups that grew into global giants to niche businesses that found success by catering to a specific market, these stories can offer insights into what makes a business idea successful. Let's delve into some case studies and lessons from successful entrepreneurs.
Successful Business Ideas: Case Studies from Around the World
1. Airbnb: Airbnb started as a small venture when its co-founders rented out air mattresses in their apartments to attendees of a local conference. Today, it's a global platform that connects people with unique travel accommodations around the world. The key to Airbnb's success was identifying and filling a gap in the market.
2. Etsy: Etsy began as a platform for crafters and artisans to sell their handmade goods. Today, it's a global marketplace for unique and creative goods. Etsy found success by catering to a niche market and fostering a community around it.
3. Warby Parker: Warby Parker disrupted the eyewear industry by offering stylish, high-quality glasses at a fraction of the price of traditional retail. They identified a problem in the market – overpriced glasses – and offered a solution that provided value to customers.
4. Patagonia: Patagonia, an outdoor clothing and gear brand, has been successful not just because of its high-quality products, but also because of its commitment to environmental sustainability. By aligning their business with a cause they're passionate about, Patagonia has built a loyal customer base.
Lessons Learned from Successful Entrepreneurs
1. Identify a Gap in the Market: Many successful businesses started by identifying a problem or gap in the market and offering a solution.
2. Focus on the Customer: Successful businesses prioritize customer needs and strive to provide value to their customers.
3. Embrace Innovation: Businesses that embrace innovation and are willing to adapt and evolve are more likely to succeed in the long run.
4. Persistence: Many successful entrepreneurs faced challenges and setbacks along the way. The key to their success was their persistence and determination to keep going.
5. Passion: Successful entrepreneurs are often deeply passionate about their businesses. This passion drives them to work hard and strive for success.
Remember, every business journey is unique, and what works for one might not work for another. Use these stories as inspiration, but also trust your instincts and pave your own path to success.
Conclusion:
Choosing the right business idea is a critical step on the path to entrepreneurial success. As we've explored in this guide, the best business ideas for 2023 are diverse, spanning various sectors, trends, and demographics. It's essential to consider your market, the profitability and scalability of the idea, and your passion and expertise. Drawing inspiration from successful entrepreneurs and learning from their journeys can also provide valuable insights. Remember, every entrepreneurial journey is unique, and the best business idea for you is one that aligns with your skills, interests and the needs of the market.